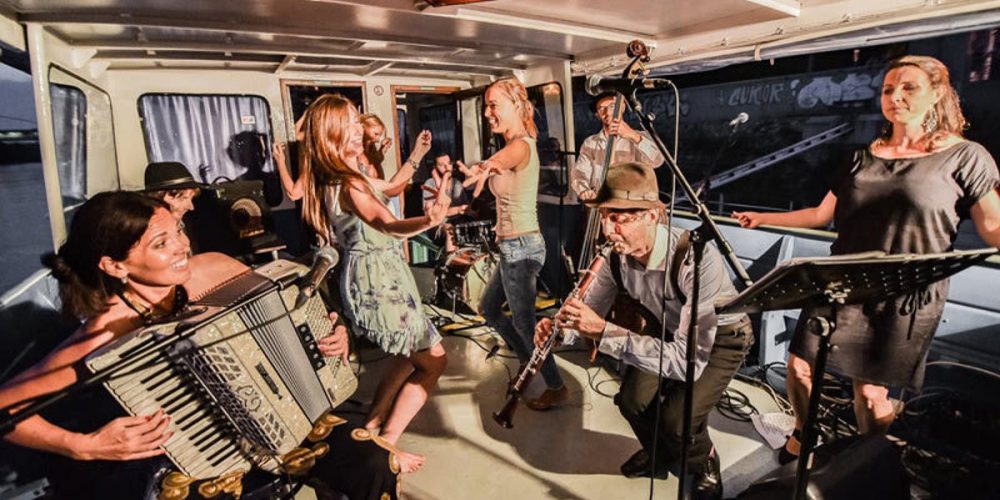 Preßburger Klezmer Band
Bio
Preßburger Klezmer Band is the first Slovak band to take its inspiration from the emotive dance music of Central and Eastern Europe known as klezmer.
It was founded in 1995 in Bratislava (one of the historical names of this town was Preßburg) and at the same time, it is also the highest rated among similar bands within the region of the former Czechoslovakia.
The band serves up an energetic musical cocktail: a mix of Jewish, Balkan and Oriental music, complemented by Slovak and Gypsy folk elements 'Äď all combined with a unique essence of contemporary styles, including jazz, rock, reggae and Latin music. The band'Äôs repertoire offers a captivating interpretation of unique and well-known songs 'Äď usually sung in Yiddish, but also in Slovak, English and Balkan languages 'Äď expressing enthralling emotion and a 'Äúmusic-to-dance to'ÄĚ quality.
Pre√üburger Klezmer Band has played at many festivals and concerts at Slovak Republic and also many foreign countries during its more than 20 years existence. The band has also collaborated with some renowned foreign musicians 'Äď including projects with Polish interpreter of Jewish songs Andr√© Ochodlo, with Armenian singer Karin Sarkisjan or with British clarinetist Merlin Shepherd.
Band
Marta Potanńćokov√° / Ivana Ecetov√° 'Äď s√≥lov√Ĺ spev
SneŇĺana Jovińá 'Äď Werner 'Äď akorde√≥n, s√≥lov√Ĺ spev
Andrej Werner 'Äď husle
Miroslav Lago 'Äď klarinet
Val√©r Miko 'Äď klav√≠r
Samuel Alexander 'Äď kontrabas, s√≥lov√Ĺ spev
J√°n OriŇ°ko 'Äď bicie, perkusie
Albums
Lajv (Akcent, 2002)
Ot Azoy! (Millenium Records / SKA, 2004)
André Ochodlo & Preßburger klezmer band: Shalom (Pavian Records, 2004 / Alef music, 2005)
Mit libe (Hevhetia, 2006)
Preßburger Special (Slovak Klezmer Association, 2010)
Tants mit mir (Real Music House / SKA, 2012)
Tsvantsik yorn (Real Music House / SKA, 2015)
Balady/Baladen (Real Music House/SKA, 2018)
Others
Awards:
Album Tants mit mir (2012) won Slovakia's Radio_Head Award for the best album of year 2012 in world music/folk category
Reviews/Quotes:
'ÄěThese musicians share a new and original approach to klezmer music. Their youth, energy and esprit are expressed in an ecstatic joy of their music. The instrumental part intertwined with pleasant singing, dance rhythm and purity involves the audience and invites them to dance and celebrate. Pre√üburger Klezmer Band demonstrates its skills best by combining energy with vibrant vitality resulting in a festive mood, which wonderfully reflects the wealth and wisdom of Jewish life .'Äú
Merlin Shepherd 'Äď klezmer clarinet virtuoso and trainer
---