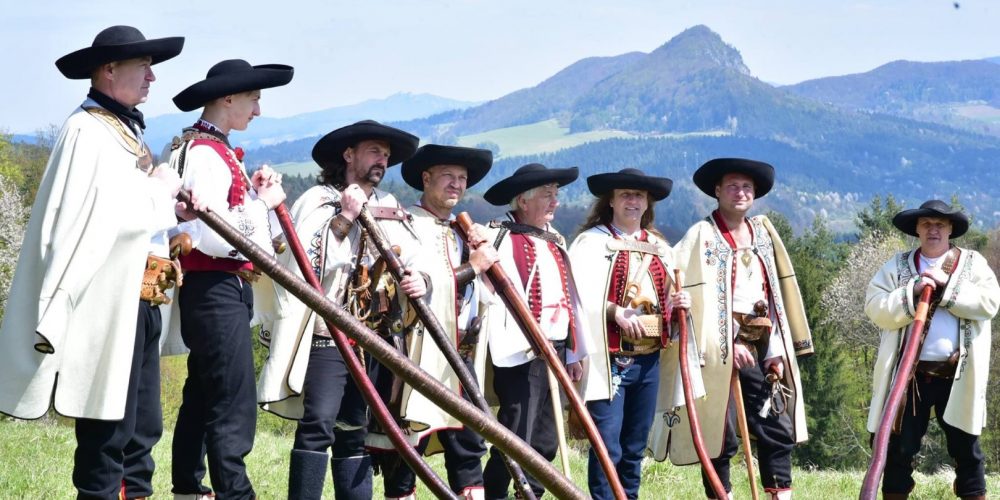 Trombitáši Štefánikovci
Bio
Shepherd roots music performed on trombitas and fujaras, the iconic Slovak folk instruments accompanied by masculine vocals.
Trombitáši Štefánikovci (the Štefánik Trombita Players) is a folk band established in 2008. The core members are brothers Ján Štefánik and Pavol Štefánik and their brother-in-law Pavol Novosád from Nimnica village, completed with other musicians from this region.
On CD called Gr├║┼łom hore (Up to the pasture hill), which was released in 2017, you could hear the group of male singers from P├║chov valley and Jura Ka┼ípar├şk and Ka─Źka Mrlinov├í.
This folk band is using many instruments typical for this region ÔÇô not only trombitas, but also shepherd horns, fujaras and various shepherd flutes.
Three of the band members ÔÇô J├ín ┼átef├ínik, Pavol Novos├íd a Ivan Bobot ÔÇô are also instrument makers (they received some awards for making and playing them). Their music with other instruments added: helig├│nka accordion, jew┬┤s harp, stumblebum, bagpipes, tuned cow bells, bass and viola, and also with male and female voices, represents a very interesting and original recording, which have a lot of positive feedback not only from Slovakia, but also from abroad. The band performed at World Music Festival Batislava 2018, various folk festivals in Slovakia, Czech Republic and at La Zampogna Festival in Italy in 2018.
Band
Pavol ┼átef├ínik ÔÇô fujara trombita, helig├│nka, r├şfov├í p├ş┼í┼ąala, spev, pastiersky roh
J├ín ┼átef├ínik ÔÇô ozembuch, spev, pastiersky roh
Pavol Novos├íd ÔÇô drumb─ża, spev, pastiersky roh
Ivan Bobot ÔÇô fujara, p├ş┼í┼ąalka, koncovka, spev, pastiersky roh
Peter Pe┼ąovsk├Ż ÔÇô zvonkohra, spev, pastiersky roh
Daniel K├í─Źer ÔÇô basa, basi─Źka, spev, pastiersky roh
Juraj ┼átef├ínik ÔÇô viola
Albums
Others
Reviews/Quotes:
ÔÇ×The brand new album by The Stefanikovci brothers is an open window to a musical tradition most of us never heard of. This is a "welcome" opportunity to indulge yourself in new sounds that are quite old which are performed by a very confident group of musicians that deserve close attention. Highly re- commended!ÔÇť
Gil Medovoy, programmer/co-director World Music Department, KDVS 90,3 FM
ÔÇ×When I first listened to the CD, I sensed that the music led me out to open spaces and up on highlands. Then I saw the picture of the trombita which justified the sensation I got. Surely most people cannot play these giant trumpets in closed quarters. But the sound that comes from it is surprisingly delicate not exactly the sound of a tuba, the tone one expects delivered upon setting eyes on the instrument. It is down to earth folk music with quite a variety – some instrumental pieces, some songs sung by men only and some men and women mixed ones. Then one hears the accompaniment of an accordion with its perfectly beautifying effect. The music is not repetitive and as such it does not contain the sometimes undesirable elements so often found in authentic music. Very enjoyable CD ÔÇô Two thumbs upÔÇť!
Reha Uz, radio broadcaster, Acik Radyo FM 94.9 ISTANBUL
---