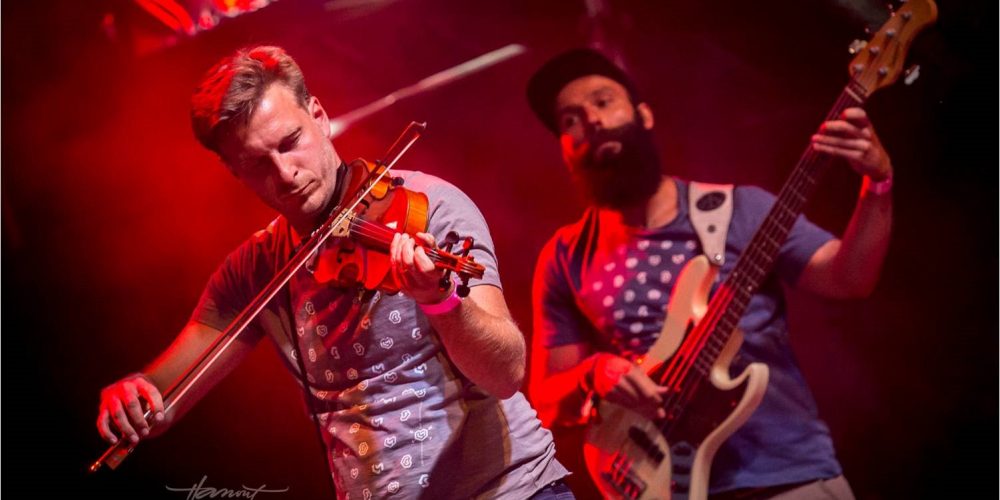 ńĹudov√© Mladistv√°
Bio
The ńĹudov√© Mladistv√° is the project of Martin ҆tef√°nik, a young composer and pianist who combines elements of folklore, jazz, classical and contemporary music.
The intense interest of composer Martin ҆tef√°nik in traditional roots music resulted in research in the archives of The Slovak State Traditional Dance Company (SńĹUK) and the reinvention of old Slovak folk songs. Many of these almost-forgotten songs were revived by Martin, who is representative of new generation of musicians that redefine traditional material with respectful modern arrangements.
Martin's arrangements present a fusion of seemingly disparate elements. His unique, hand-written compositions introduce an inventive approach to the treatment of folk songs, and attracts fans of jazz and world music. The band's performances are enriched by a female chorus and improvisations that are both sophisticated and playful.
The group caught the attention of the general public in 2016, when it won several awards. In 2018 thery released their debut album. The band has performed at the biggest festivals in Slovakia: Bratislava Jazz Days 2017, Pohoda 2017, Czech Music Crossroads and many others.
Band
Martin 'ÄěMajlo'Äú ҆tef√°nik 'Äď piano
Jakub Kańćic 'Äď drums
Jozef Madola 'Äď bass guitar
J√°n KruŇĺliak 'Äď violin
Peter Leto 'Äď cimbalom
Nina Koll√°rov√°, M√°ria Nagyov√°, Diana Minarovińćov√°, Ter√©zia JaroŇ°ov√° 'Äď vocals
Albums
Others
Awards:
'ÄěDiscovery of the Year'ÄĚ at the Bratislava Jazz Days 2016
JazzFruit Award, The Interantional Talent contest Mladí ladí jazz in Czech Republic, 2017
Radio_Head Award for the 'ÄěBest New Act 2016'Äú
Reviews /Quotes:
'ÄěEight people on the stage produce a stirring musical template of how contemporary Slovak folklore can sound, when performed by a pianist with jazz sensibility, a drummer with rock drive, a cimbalom player with progressive attitude, a post modern influenced violin player and a bass guitarist with a funky, kicking style. Music crawls out of these boys and girls in different set ups (trio, quartet without/or with women vocals) and always ends with interesting results…. From a musical point of view there's a lot of energy and creativity pouring out of this band.'ÄĚ
Milan B√°tor, music journalist, online magazine Ostravan
---