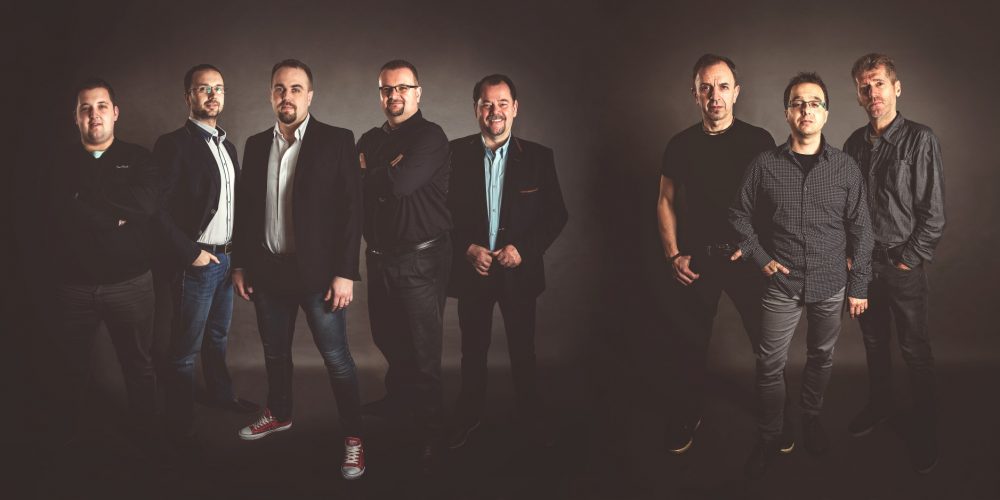 AMC Trio and Folk Band of Stano Bal├í┼ż
Bio
AMC trio is a band with its own language and original music grown on jazz, classical and rock music. For twenty-five years of its existence they have cooperated with the stars like Randy Brecker, Regina Carter, Philip Catherine, Bill Evans and many others and played all over Europe.
Folk Band of Stano Bal├í┼ż is a traditional folk music band. They uncompromisingly keep alive the tradition of pure┬áSlovak folk music from East Slovakia for more than eleven years.
Project of two different bands playing simultaneously on one stage might seem strange however it's full of colors, rhythms, unexpected changes and above all full of creative music ideas and suprisingly exceptional conjuction. In 2019 band perfomed at Czech Music Crossroads festival.
Band
AMC Trio
Peter Adamkovi─Ź ÔÇô piano
Marin Marin─Ź├ík ÔÇô double bass
Stanislav Cvanciger ÔÇô drums
─Żudov├í hudba Stana Bal├í┼ża
Stano Bal├í┼ż ÔÇô first violin
Jozef Franek ÔÇô viola
Michal Germu┼íka ÔÇô accordion
┼átefan Ma─Źejovsk├Ż ÔÇô double bass
Peter Germu┼íka ÔÇô cimbalom
Albums
The common album:
AMC trio a ─Żudov├í hudba Stana Bal├í┼ża: Ad Fontes (Thor-iza Music, 2017)
AMC Trio:
Thor-iza (Hevhetia, 2006)
Soul of the Mountain (Hevhetia, 2008)
Waiting For a Wolf (Hevhetia, 2011)
One Way Road to My Heart (Moosicus Records, 2012)
Very Keen Attack (Thor-iza Music, 2015)
AMC Trio Plus (Hevhetia, 2019)
Folk Band of Stano Bal├í┼ż:
Muzikanci raslavicke (2008)
V Raslavicoch bije banda (2014)
ÔÇŽfarbi ne┼íanujce (2018)
ÔÇŽdo Bet─żema (2019)
Others
---