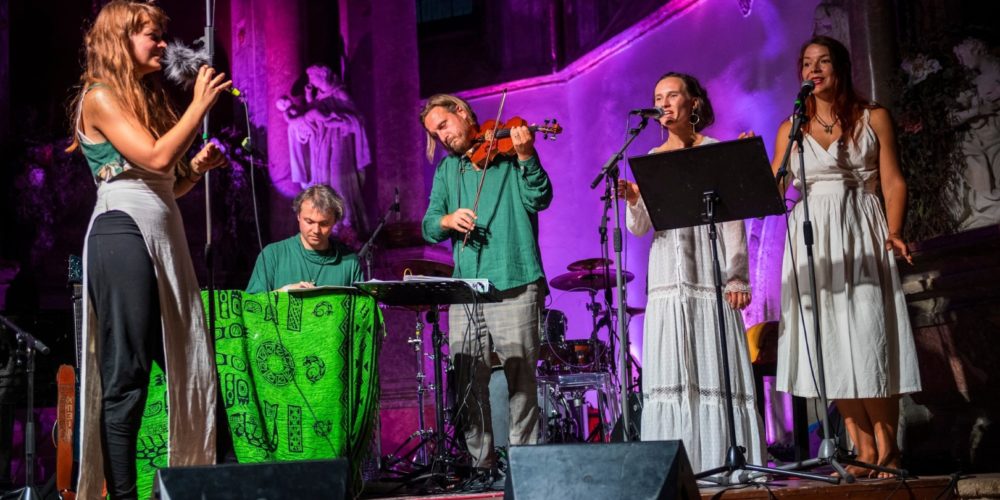 Alapastel
Bio
Alapastel is a special project of the Slovak musician and composer Luk√°Ň° Bulko which combines ambient and classical music sounds with electronics. After his debut album Hidden for the Eyes, released under the UK label Slowcraft Records in 2018 and warmly welcomed both by listeners and music journalists, there came a second album entitled Ceremony. It was released in autumn 2021 under Lost Tribe Sound label from the USA. Luk√°Ň° crafts impressive collages of neo-classical, experimental and electronic compositions, with a hint of traditional influences, yet made in a contemporary way. Some tracks of this 'Äúhealing ritual'ÄĚ contain extracts from Richard Grossman¬īs music based on traditional Amazonian shamanism. The other important person of the Ceremony album is J√°n KruŇĺliak jr., a violinist capable of improvising in various music styles. Visual arts and dance are also important ingredients of Ceremony. The dancing and shamanistic part of the live performances are performed by Krist√≠na Kluv√°nek. Let¬īs heal ourselves and the planet Earth in this sound ceremony!
Band
Luk√°Ň° Bulko 'Äď electronics, live sampling (Octatrack)
J√°n KruŇĺliak jr. 'Äď violin + effects
Krist√≠na Kluv√°nek 'Äď vocal, fujara, drum, shakers, intuitive moves
Albums
Hidden for the Eyes (Slowcraft Records, 2018)
Ceremony (Lost Tribe Sound, 2021)
Others
Notable live performances:
Waves Vienna (2018), Palace Akropolis, Praha (2019), Pohoda_FM live (2020), Festival Spectaculare, Praha, (2022), World Music Festival Bratislava – Klarisky (2022).
Songs streams and premieres in the media: XLR8R, Headphone Commute, Fluid Radio, BBC6, Radio Alhara…
Reviews/quotes:
Hidden for the Eyes (2018) – James Catchpole, Fluid Radio (UK) 'ÄúWhile the footprints we leave behind in our own lives 'Äď both for good and for bad 'Äď will vanish without a trace, Hidden for the Eyes leaves behind a soulprint.'Ä̂Ķ'ÄėWalk as if you'Äôre kissing the ground with your feet'Äô isn'Äôt restricted to Buddhism 'Äď it'Äôs a message for us all.'ÄĚ
Ceremony (2021) – Rockerilla magazine, Mirco Salvadori (Italy), EN: "a real journey into the mystery that governs our passage on this earth, the memory that is renewed thanks to an incredible mix between the archaic and the modern, between PAST AND PRESENT."
Brainwashed, Anthony D'ÄôAmico: 'ÄúBulko'Äôs unusual compositional approach and eclectic choice of instruments elevate this album into something considerably more compelling than most neo-classical albums that find their way to my ears.'ÄĚ
Recenzie/cit√°ty:
Hidden for the Eyes (2018) – James Catchpole, Fluid Radio (UK) 'ÄúWhile the footprints we leave behind in our own lives 'Äď both for good and for bad 'Äď will vanish without a trace, Hidden for the Eyes leaves behind a soulprint.'Ä̂Ķ'ÄėWalk as if you'Äôre kissing the ground with your feet'Äô isn'Äôt restricted to Buddhism 'Äď it'Äôs a message for us all.'ÄĚ
Ceremony (2021) – Rockerilla magazine, Mirco Salvadori (Italy), EN: "a real journey into the mystery that governs our passage on this earth, the memory that is renewed thanks to an incredible mix between the archaic and the modern, between PAST AND PRESENT."
Brainwashed, Anthony D'ÄôAmico: 'ÄúBulko'Äôs unusual compositional approach and eclectic choice of instruments elevate this album into something considerably more compelling than most neo-classical albums that find their way to my ears.'ÄĚ
---