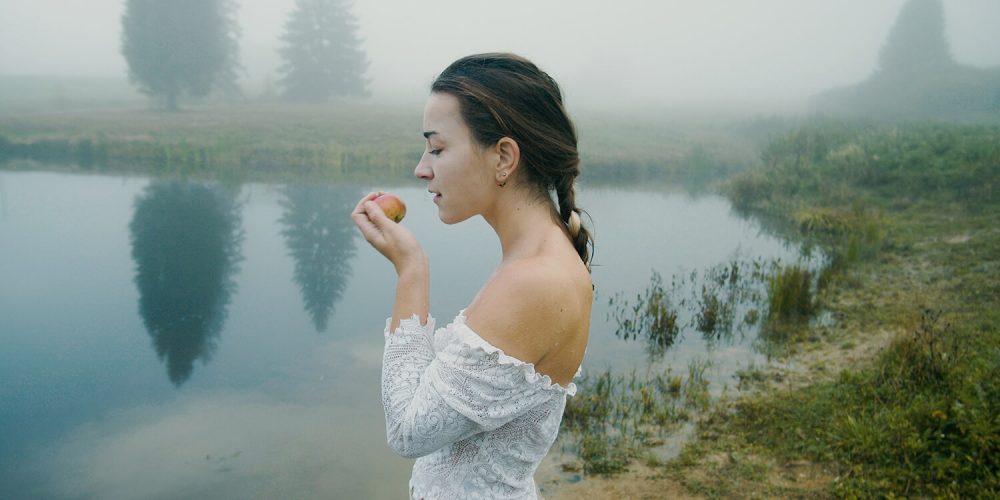 Eniesa
Bio
Hudba zo sveta slovenskej v├şly ÔÇô Eniesy.
Eniesa alebo San. je hudobn├ş─Źka ┼żij├║ca na Slovensku, ktor├í cestuj├║ce do r├┤znych kraj├şn za objavovan├şm st├íle nov├Żch svetov ─Źo nasl├║chaj├║ a in┼ípiruj├║. I ke─Ć sa hudbe venuje od mali─Źka, a┼ż v posledn├Żch ┼ítyroch rokoch sa v nej skuto─Źne na┼íla. Prv├ę dva albumy vznikli v Bratislave v spolupr├íci s hudobn├şkom Maokom. Eniesa sa narodila v Ko┼íiciach, kam sa po nieko─żk├Żch rokoch op├Ą┼ą vracia za svojimi kore┼łmi. Pr├íve tu nanovo vytvorila kapelu zlo┼żen├║ z priate─żov a dlhoro─Źn├Żch muzikantsk├Żch kolegov, ktor├ş sa nen├ípadne objavili u┼ż na albume DomoRaj. T├şto muzikanti, nazvan├ş Le┬┤Murs, posunuli Eniesinu hudbu do sf├ęr, ktor├ę dlho h─żadala. To ju vedie s nimi hra┼ą st├íle ─Źastej┼íie. Moment├ílne je v pr├şprave nov├Ż album, ktor├Ż vznik├í v ko┼íickom ┼ít├║diu Undergroove Records v bl├şzkej spolupr├íci s jedn├Żm z ÔÇ×LeMurovÔÇť, Pavlom Je┼łom.
Eniesa alebo San. je slovensk├í spev├í─Źka, hudobn├ş─Źka a autorka. Na p├│diu ju v├Ą─Ź┼íinou uvid├şte spieva┼ą s gitarou, santurom┬áa in├Żmi n├ístrojmi, ktor├Żmi ob─Źas doprev├ídza nie len muzikantov. Okrem vlastn├Żch skladieb, vytv├íra aj hudbu pre divadeln├ę, tane─Źn├ę, multi┼ż├ínrov├ę predstavenia a filmy. Jej prv├ę dva albumy ┬┤333 To Nusein┬┤ a ┬┤DomoRaj┬┤ pln├ę pr├şrodn├Żch mot├şvov, ambientn├Żch zvukov a z├í┼żitkov z hudobn├Żch ciest po Eur├│pe vznikli v Bratislave. Za vytvoren├şm tretieho s n├ízvom ┬┤Meet Blue Animal┬┤ sa San. vr├ítila do svojich rodn├Żch Ko┼í├şc, kde na ┼łom v ┼ít├║diu UnderGroove Studio spolupracovala s Pavlom Je┼łom (IMT Smile, Cha Bud!), tie┼ż ─Źlenom jej kapely Eniesa & Le┬┤Murs. Pr├íve s n├şm tvoria mnoho┼ż├ínrovo u┼ż nieko─żko rokov a od roku 2017 spolo─Źne vystupuj├║ aj vo dvojici pod menom Eniesa & PJ┬┤s lab. V roku 2017 sa tie┼ż obaja objavili na s├│lovom albume Franty ─îern├ęho z kapely ─îechomor, z ─Źoho vznikol n├ípad na vytvorenie spolo─Źn├ęho albumu, ktor├Ż vy┼íiel vo febru├íri 2020. Okrem folkl├│rom zafarben├Żch piesn├ş je album a projekt ┬┤Jablko┬┤ obohaten├Ż o videoklipy, ktor├ę spolo─Źne vytv├íraj├║ ─Źeskoslovensk├║ rozpr├ívku.
─îlenovia
Eniesa San. ÔÇô spev, gitara, santur, efekty perkusie
Pavol Je┼ło ÔÇô tr├║bka, basa, klav├şr, synth, pad
Peter Tomko ÔÇô akustick├í gitara, viola de gamba, spacedrum
Tom├í┼í Bene┼í ÔÇô perkusie, bubny
Albumy
Eniesa – 333 To Nusein (Promo CD, 2013)
Melme Arya (Maok & Eniesa) – Na hladine (Zebra & Cloud, 2014)
Eniesa – DomoRaj (Zebra & Cloud, 2016)
Eniesa & Le┬┤Murs – Meet Blue Animal (Zebra & Cloud, 2017)
Eniesa & PJ┬┤s LAB – Jablko (Hevhetia, 2020)
In├ę
Ocenenia:
2014 – 1. miesto – Demovnica, R├ídio FM (Skladba V pocitoch)
Recenzie:
ÔÇ×O zaj├şmav├ę ┼żeny ÔÇô autorky a interpretky r┼»zn├Żch generac├ş ÔÇô nen├ş na slovensk├ę world music a folkov├ę sc├ęn─Ť v posledn├şch letech nouze: Jana Kirschner, Katar├şna M├ílikov├í, Zuzana Moj┼żi┼íov├í, Skyva, Miriam Kaiser, Zuzana Homolov├í, Katar├şna Ko┼í─Źov├í, So┼ła Hor┼ł├íkov├í ÔÇô co jm├ęno, to v├Żrazn├í osobnost. D├şky sv├ęmu nov├ęmu albu Jablko se mezi n─Ť m┼»┼że nyn├ş hrd─Ť hl├ísit mlad├í zp─Ťva─Źka a autorka Eniesa, vlastn├şm jm├ęnem Sandra Urban─Ź├şkov├í.
Jablko je kr├ítk├ę album ÔÇô neb├Żt t┼Öi roky star├ę bonusov├ę p├şsn─Ť, odpov├şdalo by rozsahem sp├ş┼íe EP desce. Jen┼że i t─Ťch n─Ťkolik m├ílo p├şsn├ş, n─Ťkter├ę lidov├ę, jin├ę autorsk├ę, sta─Ź├ş k tomu, abychom si uv─Ťdomili, ┼że m├íme p┼Öed sebou dal┼í├ş zaj├şmavou a origin├íln├ş osobnost.
Album Jablko stoj├ş p┼Öedev┼í├şm na kontrastech a opozic├şch. Zp─Ťva─Źka v nahr├ívce vytv├í┼Ö├ş hned dv─Ť paraleln├ş dua s hudebn├şky-mu┼żi. Jej├şm stabiln├şm hudebn├şm partnerem je multiinstrumentalista Pavol Je┼ło, kter├Ż podbarvuje jej├ş hlas cel├Żm mal├Żm orchestrem n├ístroj┼». Minim├íln─Ť stejn─Ť d┼»le┼żit├Ż je ov┼íem producent alba Franti┼íek ─îern├Ż z ─Źesk├ę kapely ─îechomor ÔÇô nejen ┼że spolupr├íce s n├şm na jeho s├│lov├ęm albu Franta byla na po─Ź├ítku tohoto projektu. Franti┼ík┼»v s├│lov├Ż zp─Ťv se nav├şc na albu kr├ísn─Ť poj├ş s Eniesin├Żm ┼żensk├Żm hlasem. Jde v┼íak nejen o kontrast mu┼żstv├ş a ┼żenstv├ş, ale tak├ę o protiklad ml├íd├ş a zral├ęho v─Ťku, ─Źe┼ítiny a sloven┼ítiny (jakkoli Eniesa zvl├íd├í i zp─Ťv v ─Źesk├ęm jazyce bravurn─Ť), folkloru a vlastn├ş tvorby a tak├ę zd├ínliv─Ť jednoduch├ę zp─Ťvnosti a rafinovan├Żch aran┼żm├í. To v┼íe vytv├í┼Ö├ş pod povrchem p├şsn├ş ur─Źit├ę nap─Ťt├ş, kter├ę l├ík├í k dal┼í├şm a dal┼í├şm poslech┼»m. Jablko v┼íak nen├ş pouze album k poslouch├ín├ş. P┼Öirozen├Żm pokra─Źov├ín├şm poslechu m┼»┼że toti┼ż b├Żt sledov├ín├ş videoklip┼», kter├ę jsou ned├şlnou sou─Ź├íst├ş projektu.ÔÇť
Milan Tesa┼Ö – ─Źesk├Ż hudobn├şk, skladate─ż, pedag├│g, publicista (Reflex), dramaturg, hudobn├Ż kritik (Radio Proglas)
"San je unik├ítn├ş um─Ťlkyn├ş, jej├ş hudba vynik├í k┼Öehkost├ş a do klasick├Żch folkl├│rn├şch postup┼» p┼Öin├í┼í├ş nov├ę z├í┼Öiv├ę barvy. Zd├ínliv─Ť neslu─Źiteln├ę spojuje v magick├Ż celek, kter├Ż v├ís p┼Öenese do jin├ęho sv─Ťta."
Luk├í┼í Chromek – music producer, sound director (Andflux studios s.r.o.), first engineer (Soundevice Studio), product manager (kytary.cz)
---