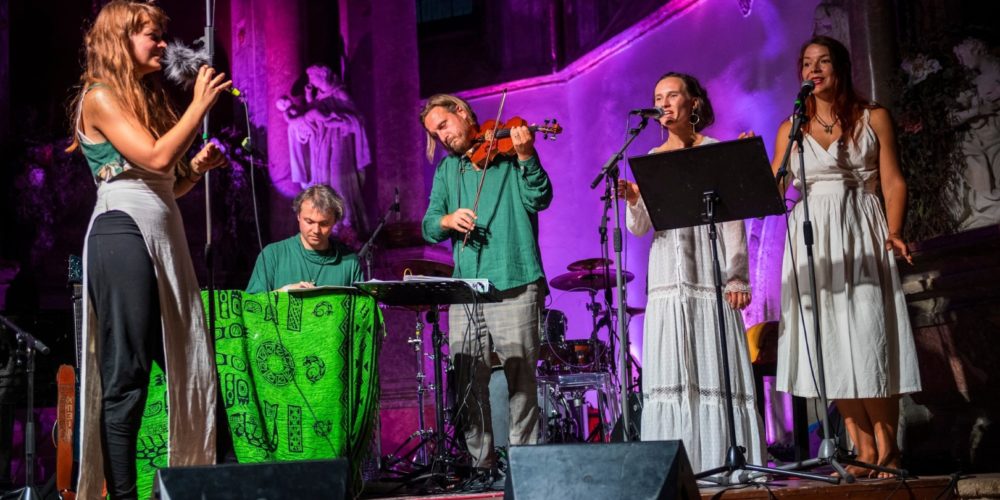 Alapastel
Bio
Alapastel je Ň°peci√°lny projekt slovensk√©ho hudobn√≠ka a skladateńĺa Luk√°Ň°a Bulka, ktor√Ĺ kombinuje prvky ambientu, klasiky, elektroniky a tradińćn√Ĺch vplyvov. Jeho debutov√Ĺ album Hidden for the Eyes vyŇ°iel v roku 2018 na britskej znańćke Slowcraft Records a bol rovnako dobre prijat√Ĺ hudobn√Ĺmi kritikmi aj verejnosŇ•ou. Na jeseŇą 2021 vyŇ°iel nov√Ĺ album Ceremony, tentoraz na americkej znańćke Lost Tribe Sound. Luk√°Ň° na Ňąom vytv√°ra pozoruhodn√© kol√°Ňĺe neo-klasick√Ĺch, experiment√°lnych a elektronick√Ĺch skladieb, ktor√© obsahuj√ļ aj stopy tradińćnej hudby, no z√°roveŇą znej√ļ moderne. Niektor√© kompoz√≠cie tohto 'Äělieńćiv√©ho ceremoni√°lu'Äú obsahuj√ļ √ļryvky z hudby Richarda Grossmana, opieraj√ļcej sa o tradińćn√Ĺ Ň°amanizmus z oblasti Amaz√≥nie. DalŇ°√≠ v√Ĺznamn√Ĺ spolutvorca albumu je huslista J√°n KruŇĺliak mladŇ°√≠, schopn√Ĺ improvizovaŇ• v r√īznych hudobn√Ĺch Ň°t√Ĺloch a poloh√°ch. D√īleŇĺitou s√ļńćasŇ•ou Ceremoni√°lu s√ļ aj v√Ĺtvarn√© umenie a tanec. Pohybov√ļ a Ň°amanistick√ļ zloŇĺku Ňĺiv√©ho predstavenia m√° na starosti Krist√≠na Kluv√°nek. PońŹme uzdraviŇ• seba aj plan√©tu Zem v tomto zvukovom ceremoni√°li!
ńĆlenovia
Luk√°Ň° Bulko 'Äď elektronika a live sampling na n√°stroji Octatrack
J√°n KruŇĺliak ml. 'Äď husle + efekty
Krist√≠na Kluv√°nek 'Äď spev, fujara, bub√≥n, Ň°ejkre, intuit√≠vny pohyb
Albumy
Hidden for the Eyes (Slowcraft Records, 2018)
Ceremony (Lost Tribe Sound, 2021)
Iné
V√Ĺznamn√© koncerty: Waves Vienna (2018), Palace Akropolis, Praha (2019), Pohoda_FM live (2020), Festival Spectaculare, Praha, (2022), World Music Festival Bratislava – Klarisky (2022).
Streamy skladieb a premiéry v médiách: XLR8R, Headphone Commute, Fluid Radio, BBC6, Radio Alhara…
Rebr√≠ńćky: LowLightMixes Channel – "Ceremony'ÄĚ – 'Äú#3 favorite ambient album of 2021",
Bandcamp Daily 'Äď "Ten Musicians Updating Electroacoustic Music for the 21st Century" (2019)
RedBull Music 'Äď "Calm amongst the noise: 8 essential ambient artists you need to know" (2019)
Hidden for the Eyes bol ablumom roka 2018 podńĺa Ňĺurnalistu Mareka Danka (hudba.sk), Marek Danko a Peter Doln√≠k (radio_FM) zaradili album medzi "NajlepŇ°ie slovensk√© albumy dek√°dy 2009-2019".
Recenzie/cit√°ty:
Hidden for the Eyes (2018) – James Catchpole, Fluid Radio (UK) 'ÄúWhile the footprints we leave behind in our own lives 'Äď both for good and for bad 'Äď will vanish without a trace, Hidden for the Eyes leaves behind a soulprint.'Ä̂Ķ'ÄėWalk as if you'Äôre kissing the ground with your feet'Äô isn'Äôt restricted to Buddhism 'Äď it'Äôs a message for us all.'ÄĚ
Ceremony (2021) – Rockerilla magazine, Mirco Salvadori (Italy), EN: "a real journey into the mystery that governs our passage on this earth, the memory that is renewed thanks to an incredible mix between the archaic and the modern, between PAST AND PRESENT."
Brainwashed, Anthony D'ÄôAmico: 'ÄúBulko'Äôs unusual compositional approach and eclectic choice of instruments elevate this album into something considerably more compelling than most neo-classical albums that find their way to my ears.'ÄĚ
---